Power Operations has been nominated as finalist at the UK IT Industry Awards 2019 ceremony, under the category of "Emerging Technology of the Year".
The UK IT Industry Awards are the UK's largest and most respected IT industry awards. Presented by the BCS and Computing, the awards are a benchmark for outstanding performance throughout the UK computing industry. BT and Power-Ops were named finalists in the Emerging Technology of the Year category. As the UK IT Industry Awards explain, "this category is awarded to recognize an innovative new development or service that is intended to enable a new class of solution or type of benefit".
The ceremony took place on 13 November 2019 at Battersea Evolution in London. Power Operations was represented by Mr. George Nikolakis, Director.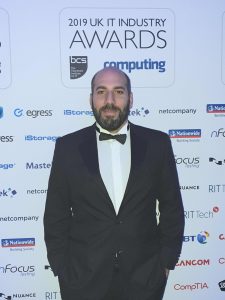 Power Ops Director, Mr. George Nikolakis explained, "We're honoured and very proud to be named finalists by the UK IT Industry Awards. The criteria the judges used to evaluate the entry include the ability to consistently meet and exceed challenging objectives, demonstrating a quality approach, evidence of exceeding expectations, innovation and being able to demonstrate quantifiable performance improvements."
The nomination was the result of successful collaboration between Power Operations and British Telecommunications (BT) that resulted at a lightweight, innovative framework that allows 5G-enabled devices to seamlessly and securely interact with the Ethereum blockchain for monitoring and billing processes. Via a specially designed blockchains-based Virtual Network Function (VNF), all blockchain operations take place at the edge cloud, offering secure and trusted identity management and data storage. The VNF is partly developed within the H2020 research project NRG-5, funded by European Commission under the 5G Public Private Program (5G PPP).
The UK IT Industry Awards focus on the contribution of individuals, projects, organisations and technologies that have excelled in the use, development and deployment of IT in the past year. More information are available in the webpage of the awards.